October 2018
Dear Friends and Partners,
| | |
| --- | --- |
| | This newsletter does provide you with some interesting new information and analysis: Most recent prices paint a rather bullish picture of global crop production - CBOT wheat quotes at more than 250 USD/t. However, when considering the long-term outlook agri benchmark analysis is much less bright – see our review of the 2018 Cash Crop Conference. |
For the first time we have had a closer look at cassava – production, processing and trade. And we made a deeper dive into the perspectives of Russian oilseed production – it appears that there is strong room for growth.
Enjoy reading this newsletter and please let us know any comments.
Yelto Zimmer
Coordinator of agri benchmark Cash Crop Network
Insights from the Cash Crop Conference 2018
2017 Crop results: Most farmers working to tight margins – while Argentine, Canadian and Eastern European are still reaping good profits. Chinese production is heavily subsidized and highly intensified: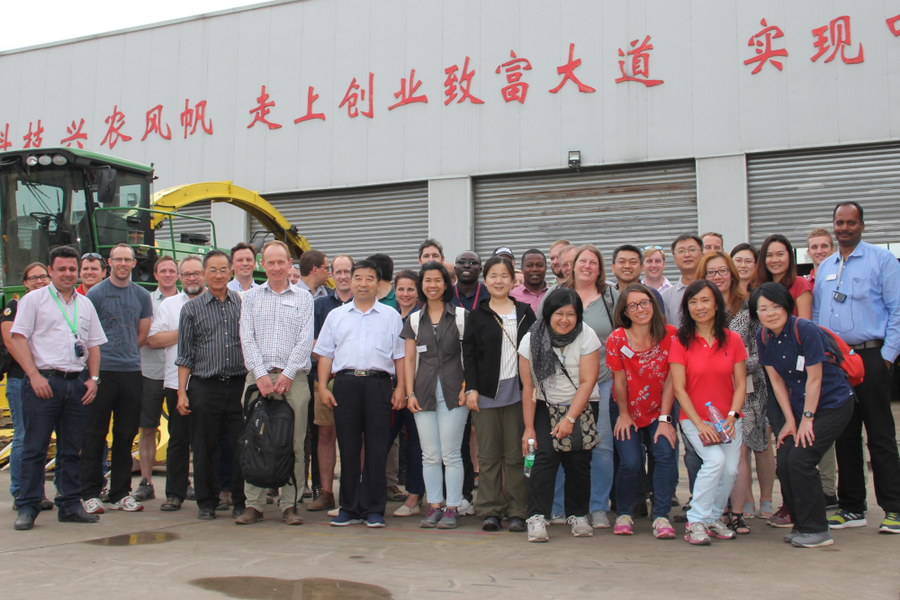 Key points

All in all, crop production remains a tight margin business, some – mainly EU farms – even struggle to cover their cash and depreciation costs. By contrast most typical farms in Argentina, Canada, Russia and Ukraine were profitable in 2017. Sugar cane and sugar beet production is suffering substantially because of the sharp and ongoing decline in global prices.
EU Wheat: performance lagging behind under a stream of environmental challenges

Wheat production in developed countries often performs poorly compared to other crops in the rotations resulting in growers in the USA or Canada reducing their wheat acreage.
EU farmers are forced by weed and pest resistances and tighter environmental regulation to broaden their rotations. The French agri benchmark partner Baptiste Dubois states: "On-farm research reveals that wider rotations and changes in tillage systems can not only save crop care products and reduce the likelihood of new resistances but also increase profits."
China – with subsidy bias towards cooperative farming

The farm tours in China revealed strong financial support for crop producers (particularly coops) including: import tariffs, minimum prices, area payments and input subsidies to stimulate production.
As of 2016 the Chinese government encouraged 44 million farmers to enlist in cooperatives – to a large degree focusing on production - and conglomerates (basically private companies) – up from 1.3 million in 2008.
Thai cassava value chain – a role model for African development?

Orawan Srisompun, co-author of a report for FAO and Thai agri benchmark partner: "The Thai cassava chip and starch value chains provide important income-earning opportunities to rural households, not only in primary production, but also in contracting services and – to a lesser degree - in processing". Processing for cassava chips is a small-scale but profitable enterprise, while processing for starch relies on significant investment and development of infrastructure to handle the large volumes of cassava required. The evolution of the Thai cassava sector provides some suggestions for how African countries may develop cassava as a cash crop to improve smallholder incomes.
The respective report can be downloaded here
(pdf-document, 2,4 MB).
USA vs. China soy trade conflict – what impact on crops in the USA?

Michael Langemeier, agri benchmark partner from Indiana, USA, presented his analysis on the competitiveness of corn vs. soy in the US corn belt. It turns out that current price ratios very much favor the corn-soy rotation in that part of the world. Only if US soybean prices were hit by more than 10 % (app. 35 USD/t) - and corn prices remain unchanged – would farmers possibly consider moving to a corn-corn-soy rotation. As Langemeier states, "As of now, such a sharp drop in relative prices seems to be unlikely. I don't foresee major changes in cropping patterns even with turmoil in global soy trade."
Download press release:
» Press release Cash Crop Conference 2018
pdf-document, 654 KB
» Pressemitteilung Cash Crop Conference 2018
pdf-document, 655 KB
agri benchmark Czech partner Náglová Zdeňka published a detailed report on the CCC 2018:
» Aktuální vývoj produkce tržních plodin ve světě
pdf-document, 2,4 MB
---

Where to for Russian oilseeds production?
Russian oilseed production has seen significant growth over recent years giving rise to the questions: "What is driving development?" and "Will the trend last?"
Focus on Western Russia

Researchers focused in the European portion of Russia investigate the potential for growth in oilseed crops in four major European regions in Russia: The Northern and Southern parts of the Black Soil Region, South Russia and the Volga region.
A review of typical farm economics and the opinions of experts in the field establish the basis for projecting the choices and developments farmers face in the run up to 2025.
Which oilseeds dominate?

Russian oilseeds generally produce positive margins and rank well compared with other crops.
Despite high overall shares in rotations, sunflowers acreage is likely to increase, although we believe a reduction in sunflower acreage is likely in some regions and, in fact, there are signals that this trend has already started. Adoption of more intensive practices leading to higher yields will be fundamental to further growth in the sunflower sector.
Soybeans and rapeseed are relatively new crops for most regions in Russia and hence yields tend to be low. But both crops have seen a tremendous growth in acreage and yield. Like sunflowers, soybeans offer a low-cost, higher margin alternative for producers, whereas rapeseed requires a larger up-front investment in crop inputs.
For both the newer crops producers face a learning curve. It is likely that current growth could continue into 2025.

Free for download!
» Russian Oilseeds production on the rise
Briefing paper 18/9, pdf-document, 1,746 MB
Please contact Yelto Zimmer (yelto.zimmer@agribenchmark.net) for more information about this project and about all other inquiries regarding agri benchmark
---

agri benchmark now competent
in the entire sugar value chain
Recently, the sugar network has expanded its coverage to exciting new countries, India and Kenya. We now represent more than 55% of the total sugar production and cover roughly 70% of world export trade.
Value chain analysis
Our new tool that includes analysis of the whole sugar supply chain by estimating processing costs of sugar cane and beet to the final products – i.e. sugar, ethanol, and energy. This is a key development to compare and understand the competitiveness of different regions and different crops (cane vs. beet) by looking at the actual main products – i.e. raw and white sugar and not only the raw product.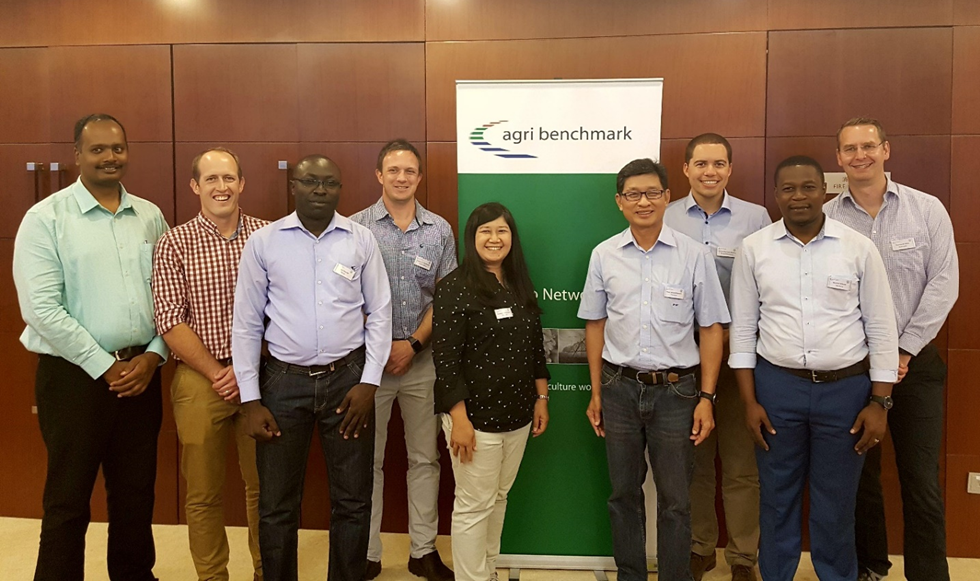 What If scenarios and comparisons
This tool also enables "What-if" scenarios to test of changes in the industry – e.g. shifting the production mix to more ethanol than sugar in Brazil; or extending the processing campaign in Europe, etc.
We are now well positioned to understand the impact from challenges such as the ban of neonicotinoids or the on-farm competitiveness of sugar beet in the EU with the currently low beet prices. And based on our value chain data we are able to access the competitiveness of different origins at a particular import destination.
For more information contact:
Samuel Balieiro
Thomas de Witte
---

agri benchmark in the media
Simon Walther published with the support of Zazie von Davier a reviewed article based on the results of his PhD thesis:
» Competitive advantages and disadvantages of agriholdings and independent farms – a case study from Ukrainian arable production.
International Journal of Agricultural Management, vol. 6, issue 2, pp.62-70.
agri benchmark partner Ashley Herbert (Agrarian Management) published a profund analysis of Australian wheat production:
» Australian wheat production compares well to global competitors - an international benchmarking comparison.
online, GRDC - Grains Research Development Corporation, 14.03.2018
Purdue economists and agri benchmark partner Rachel Purdy and Michael Langemeier release report comparing global corn production benchmarks
» Comparing global corn production benchmarks.
online, AgriMarketing, 04.06.2018