Having trouble viewing this email? View it in your browser
June, 2017
Dear readers and agri benchmark Pig friends,
| | |
| --- | --- |
| | the network is now in it's second year and we are happy to present you some latest network developments to keep you informed about activities, outputs and future plans. I am particulary pleased to announce that similar to last year we are planning a Pig Report 2017 to be issued in October this year. I would like to take this opportunity to thank our research and cooperation partners who form the basis of this network for their contributions. |
We encourage institutions and individuals who are interested to join our activities to contact us, particularly from those countries who are not in the network yet. A up-to-date list of the participating partners is found on our website.
The agri benchmark Pig newsletter will appear twice a year. Enjoy reading and take care!
Claus Deblitz
Coordinator of the agri benchmark Pig Network

First agri benchmark Pig Report
The first agri bechmark Pig Report, published in December, achieved a strong interest as well by experts as in a broader public. The report provides an overview of global pig production and trade, country specific sector information for 14 countries, farm comparison and a comparison of the pig value chain between the US and Germany.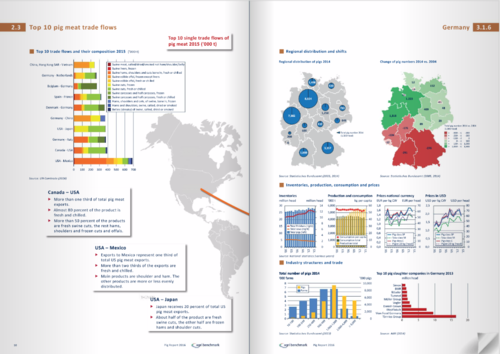 If you hadn´t had the chance to get to know about the Pig Report, following the link you can scroll through selected pages of the Report:
Pig Report 2016
You want to order the entire Pig Report 2016 as a hardcopy?
Please use the Pig Report order form
---

What are the most profitable alternatives to piglet castration without anesthesia?
Starting on January 1, 2019, piglet castration without anesthesia will be legally prohibited in Germany. Therefore Mandes Verhaagh and Claus Deblitz, researchers of the agri benchmark Pig Network, analyzed the long-term profitability of following alternatives: boar fattening without investment - boar fattening with investment - immunocastration - castration with intramuscular anesthesia - castration with isoflurane anesthesia.
You can download the report for free!
Economic Effects of Alternatives to Piglet Castration without Anesthesia in Germany
(English version)
Betriebswirtschaftliche Auswirkungen von Alternativen zur betäubungslosen Ferkelkastration in Deutschland
(German version)
---

Is group housing of sows profitable and animal friendly?
Group housing of sows was implemented by law in the EU and has been in place for some years now. A study commissioned by the UK-based NGO World Animal Protection (WAP) and carried out jointly between WAP and agri benchmark looked at the impacts of group housing on productivity, economics (agri benchmark) and animal welfare (World Animal Protection).
The research is based on case studies in the Netherlands, Spain and Brazil. While the results are not representative, we tend to conclude that group housing of sows has the potential to be equally or more productive, economic and more animal friendly than the previous situation. An essential precondition is that the systems are properly managed.
This case study is published as a Pig Network Policy Briefing Paper.
Free for download!
The pig industry´s transition to group sow housing: economic and welfare assessments
(pdf-document, 819 KB)
---

6th IMS Economics Workshop in Paris
Every two years the members of the International Meat Secretariat with affiliation towards economics meet for an Economics Workshop which took place in Paris in the IMS headquarters this year. The hosts for the Workshop were the French pork inter-profession (INAPORC) and the French Beef inter-profession (INTERBEV). Support was also provided by technical institutes IFIP (pork) and IDELE (beef). Claus Deblitz represented agri benchmark and the Thünen Institute as the only German out of 60 participants. He gave three presentations on the international competitiveness of beef production, international competitiveness of pig production and the situation of the German pig farming.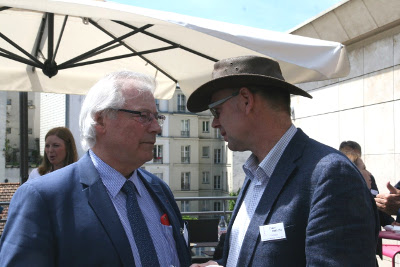 Claus Deblitz talking with the president of the Guillaume Roué, President of the IMS and the French interprofessional federation of the French pork chain INAPORC.
---

agri benchmark Pig Conference 2017
We are delighted to announce that the agri benchmark Pig Conference 2017 will be held jointly with the InterPIG group in Wageningen, Netherlands from June 26-28. Our programme comprises market information on global and country levels, latest developments and specific country presentations, comparisons of production systems, their costs and profitability, workshops on animal welfare issues, supply chain organisation and risk strategies for pig farms. The programme is completed by a farm tour and a short touristic programme.
---

Did you know?
In this section you find short information in regular intervals on particularities of production, sector, policy or trade in agri benchmark member countries.
| | |
| --- | --- |
| | The boars have the edge on |
The social demand for more animal welfare is increasingly the focus of agricultural policy. For example, the current practice of castration of piglets without anesthesia is forbidden by law in Germany from the first of January 2019. This raises the question of viable alternatives for farmers.
» Read more
---

Having trouble viewing this email? View it in your browser