Having trouble viewing this email? View it in your browser
March, 2017
Dear agri benchmark Fish friends,
| | |
| --- | --- |
| | Happy New Year, everyone! I hope you all had a wonderful holiday with family and friends. The agri benchmark Fish team has enjoyed their family time, and they are all looking forward to continuing with agri benchmark Fish with lots of exciting topics planned in the coming months. We have ambitious plans for 2017 to build the network and to attract more partners. The agri benchmark Fish network got off to a good start in 2017! |
I am delighted to introduce the second agri benchmark Fish newsletter. Enjoy reading and take care !
Sarah Simons
Member of the agri benchmark Fish Network

Aquaculture Expert Workshop
Within the scope of the Horizon 2020 Strategic Use of Competitiveness towards Consolidating the Economic Sustainability of the European Seafood sector (SUCCESS, 2015-2018, www.success-h2020.eu) we hosted an Aquaculture Expert Workshop in Hamburg.
The main goal was to identify the key issues linked to an expansion of the aquaculture sector and to synergise approaches of the European fisheries and aquaculture research. Bringing together experts and stakeholders from the fields of nature conservation, politics, economy, science and administration the present and future of aquaculture in Germany have been discussed.

The plurality and complexity of authorization procedures, too strict regulations, difficult marketing for newcomers, struggling price competitiveness with imports, lag in modernization, contradictions between consumers' expectations towards the sustainability of aquaculture products and consumers' pay behavior, disunity between the federal states and the national state as well as in-between the federal states are only some topics perceived by the stakeholders as main challenges for German aquaculture.
---

Joining a RAS focus group meeting
In February we joined a focus group on fish production in recirculatory systems organized by Eberswalde University for Sustainable Development as part of the EU project SUFISA in Lower Saxony.
Challenges, opportunities, strategies, expectations and achievements within the German recirculatory system sector were identified during this fruitful meeting. The promising results will be followed up.
---

Integrating fisheries
In a first pilot study we successfully applied the typical farm approach of the agri benchmark network in the German saithe fishery. The aim is to use vessel economic data to analyze the profitability, productivity and viability of different fishery systems. Moreover, the integration of fisheries data into the agri benchmark network allows us to compare products of wild caught species and farmed species on an international level.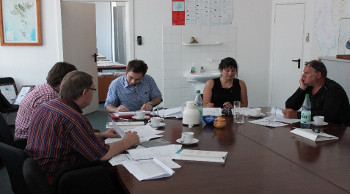 ---

Did you know?
In this section you find short information in regular intervals on particularities of production, sector, policy or trade in agri benchmark member countries.
| | |
| --- | --- |
| | Vietnamese pangasius competes with traditional wild caught saithe and cod in Germany |
The EU whitefish market is fairly complex in terms of competition and substitution between species, especially since it has undergone significant changes owing to the growing aquaculture sector in recent years.
» Read more
---

Having trouble viewing this email? View it in your browser