April 2021
Dear Friends,
| | |
| --- | --- |
| | yet another springtime with no BBQ and parties… We hope you all manage to get along with the Corona crisis. Fortunately, global crop production is still full of interesting stories. With this newsletter we would like to share with you some of our achievements: |
Below, you'll find information on a project on global fertilizer use, on the prospects for direct marketing and a number of new agri benchmark partnerships.
We would like to ask you to help us improve our coverage among international crop production economists and agri-businesses – see the section on the distribution of this newsletter and our presence in LinkedIn.
Kind regards
Yelto
Coordinator of agri benchmark Cash Crop Network
International Fertilizer Association and
agri benchmark start project on fertilizer use monitoring
The International Fertilizer Association (IFA) and agri benchmark Cash Crop just launched a joint project. Its aim is to make the use of fertilizers in global crop production transparent to the public and to all stakeholders.
We are grateful for IFA's trust in agri benchmark and we are very proud about this project because of the appreciation of our network. Furthermore, it will expand our expertise and our database on global crop production.

More detailed information on the project can be found here:
» Towards a Global Monitoring of Fertilizer Usage in Crop Production
Press release, 03/2021
» Auf dem Weg zu einem globalen Monitoring des Düngemitteleinsatzes
Pressemitteilung, 03/2021
---

Perspectives on Direct Marketing of Crop Inputs
You may have heard about Russian holdings purchasing inputs directly from manufacturers. But, otherwise, direct marketing doesn't seem to be very topical. However, selected agri benchmark partners have shared their views and their information on the ins and outs of the practice. It appears that this business model has, of course, some serious challenges but also some upside potentials.
Download the Direct Marketing Report for free here!
» Challenges and Perspectives in the Direct Marketing of Crop Inputs
Press release, pdf-document, 145 KB
» Bestellen Landwirte ihre Betriebsmittel künftig direkt beim Hersteller?
Pressemitteilung, Thünen-Institute
---

EU Farm to Fork Strategy: How reasonable is the turmoil predicted by USDA?
Near the end of 2020, the US agricultural ministry published a report on the likely consequences if the EU Commission's Farm to Fork strategy were to be put in place. The Commission proposes a set of measures that are supposed to lower greenhouse gas emission in European agriculture and improve the overall environmental and public health performance of the sector.
According to the USDA research, the implications of this strategy would be almost disastrous: a massive reduction of EU wheat and sugar production, increases in global commodity prices and even significantly more hungry people. Yelto Zimmer from agri benchmark had a closer look at the USDA paper and put a big question mark behind this dark picture.
If you want to learn more, please have a look at this link:
» EU Farm to Fork Strategy: How reasonable is the turmoil predicted by USDA?
pdf-document, 303 KB
---

Sugar cane production – How do producers cope with a tough market environment?
In the course of our web sessions, one of the topics was economics of cane production. Thomas de Witte presented some very interesting results. Among others the question was raised whether growers in India might switch to other crops due to tight margins.
You'll learn more about it from this video:
» Overview of Global Sugar Markets and Performance of Sugar Cane Farms
Video, agri benchmark Sugar Conference 2020
---

Energy cost – A key reason for the linkage between ag commodity and energy prices?
Understanding the linkage between ag commodity and energy prices is key for the smaller of the two markets. Hence, in a case study for Brazil, Yelto and Giulio Marques have been looking at the importance of energy cost in crop production and transport. It turns out that energy cost is indeed important – it adds up to about 35% of total cost of production and delivery at the port – but it cannot be seen as the main driver for the observed close linkage between the two markets.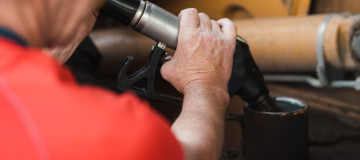 The full paper can be accessed here:
» Energy cost to produce and transport crops – The driver for crop prices? Case study for Mato Grosso, Brazil
Yelto Zimmer, Giulio Marques, 2021
---

agri benchmark in the media
Purdue economists and agri benchmark partner Rachel Purdy and Michael Langemeier published an article based on agri benchmark data:
» Cost Efficiency of International Corn and Soybean Production
R.Purdy, M.Langemeier, in:Journal of Applied Farm Economics, Vol.3, Iss.2, 2020
agri benchmark partner Marcela Remešová and Zdeňka Naglova from the Czech Republic have published an article on the economics of rapeseed cultivation.
- REMEŠOVÁ, M., NÁGLOVÁ, Z. (2020): International comparison of rapeseed cultivation in years 2016-2017. Úroda, vol. LXVIII, no. 4, pp. 24-27. ISSN 0139-6013
To contact the authors please contact:
jeanette.malchow@agribenchmark.net
Yelto Zimmer and Andriy Tovstopyat discussed online with our friend Klaus John and his team from AGROEXPERIA, a Russian company that promotes the exchange between Russian and German experts in agriculture. Results were published here:
» Кому на земле жить хорошо
online, agrotime, 24.02.2021
The publications of agri benchmark were well received in the media.
» Contributed Content: EU Farm to Fork Strategy: How Reasonable is the Turmoil Predicted by the USDA?
online, Women in Agribusiness, 02.02.2021
» Sojabohnen als profitable Alternative zu Raps und Rübe?
online, topAgrar, 10.03.2021